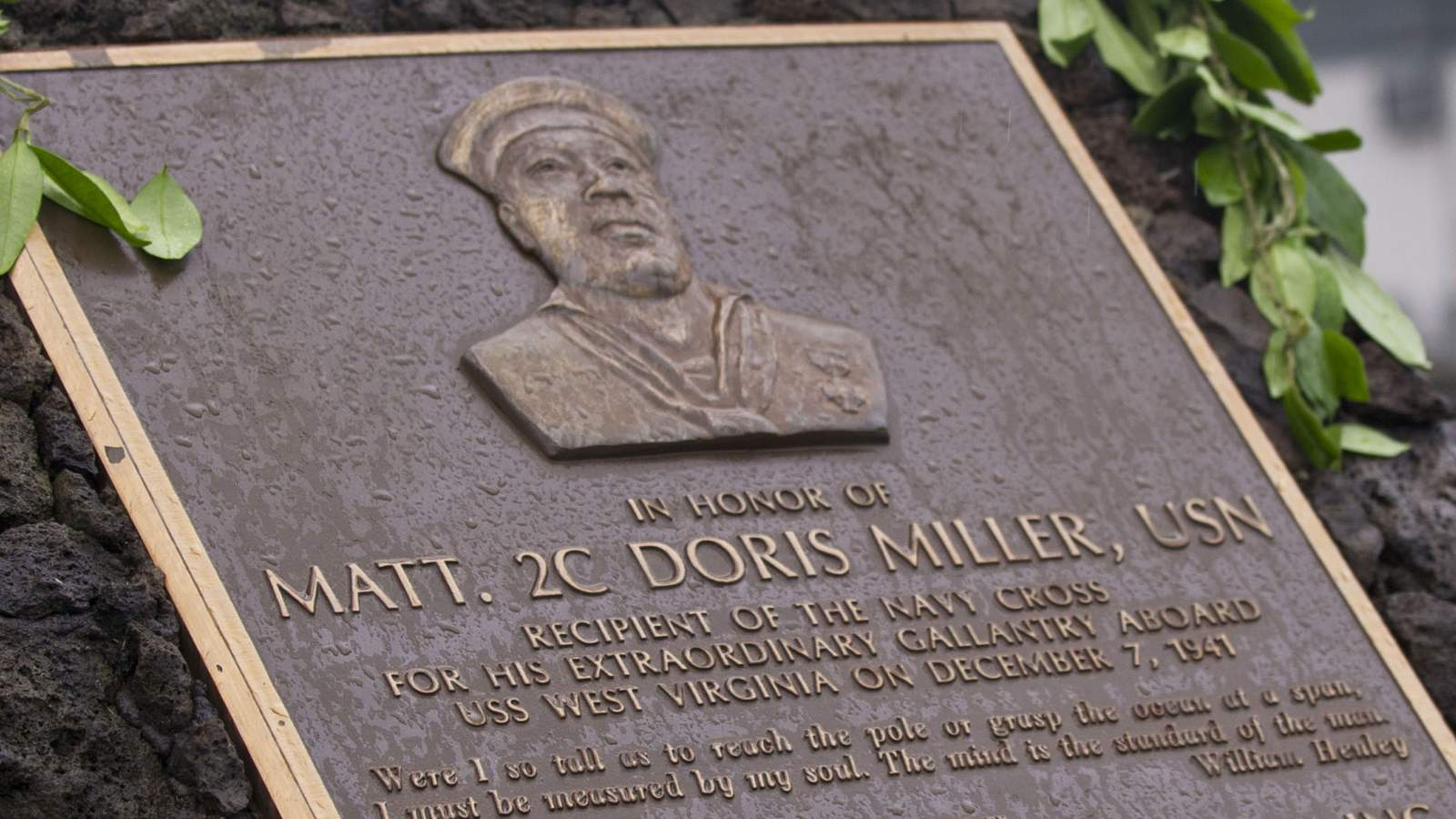 (This was first poster in 2008. I have updated it.)
The above poster is of Dorie Miller, who died in World War II. Here is what it says about him in Portrait of a Nation–Men and Women Who Have Shaped America:
" At the outbreak of World War II, the armed services practiced a rigid discrimination against African Americans that included a stubborn reluctance to acknowledge black capabilities, no matter how obvious. When Japan attacked Pearl Harbor on December 7, 1941, Miller was stationed there on the West Virginia. By the time he abandoned ship, he had braved enemy fire to carry his wounded commanding officer to safety and, thought not trained for combat, had manned an antiaircraft gin, possibly downing at least one enemy plane. His bravery initially went unrecognized, however, and only after much pressure from the nation's black press did Miller finally receive the Navy Cross. But once acknowledged, Miller's heroism became a means, through posters such as this one, for rallying African-Americans to the war effort."
Miller, a Texas native, was killed when the ship he serving on was sunk in 1943 during the Battle of Tarawa. In 1973, a navy ship was named after him.
Here is additional information on Cook Third Class Miller from the the Navy Department's Naval Historical Center.
Beyond the men he aided and saved in Pearl Harbor, and the quality of his day-to-day service, one hopes Miller's actions moved the United States closer to full equality of all people.
The artist of the above poster was David Stone Martin (1913-1992) who drew posters, magazine covers, and album covers. This link to the blog LP Cover Lover is one of many the creative covers that Stone drew for jazz albums.
The Portrait of a Nation is a first-rate book. It was produced by the National Portrait Gallery
Doris Miller should get the Medal of Honor.