This was posted on DK a couple of days ago. It is excellent.
1. Where the jobs went.
Outsourcing (or offshoring) is a bigger contributor to unemployment in the U.S. than laziness.
Since 2000, U.S. multinationals have cut 2.9 million jobs here while increasing employment overseas by 2.4 million. This is likely just the tip of the iceberg as multinational corporations account for only about 20% of the labor force.
When was the last time you saw a front-page headline about outsourcing?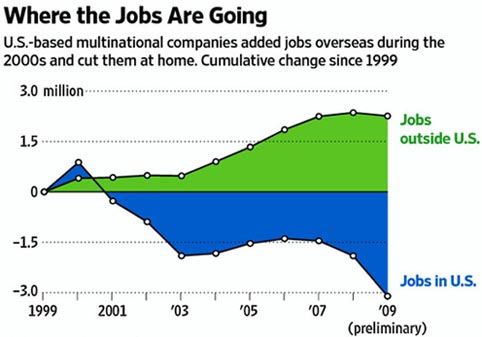 Source: Wall Street Journal via Think Progress.
2.  Upward wealth redistribution and/or inequality.
In 2010, 20% of the people held approximately 88% of the net worth in the U.S. The top 1% alone held 35% of all net worth.
The bottom 80% of people held only 12% of net worth in 2010. In 1983, the bottom 80% held 18% of net worth.
These statistics are not Democrat or Republican. They are widely available to reporters. Why aren't they discussed in the "liberal" media?
Source: Occupy Posters
3. ALEC.
If there was a corporate organization that drafted laws and then passed them on to legislators to implement, wouldn't you think the "liberal" media would report on them?
The American Legislative Exchange Council (ALEC) is such an organization. Need legislation drafted? No need to go through a lobbyist to reach state legislatures anymore. Just contact ALEC. Among other things, ALEC is responsible for:
Stand Your Ground laws
Voter ID laws
Right to Work laws
Privatizing schools
Health savings account bills which benefit health care companies
Tobacco industry legislation
Many legislators don't even change the proposals handed to them by this group of corporations. They simply take the corporate bills and bring them to the legislative floor.
This is the primary reason for so much similar bad legislation in different states.
Hello … "liberal media" … over here!!!
They're meeting in Chicago this weekend. Maybe the "liberal media" will send some reporters. (more…)