State of the Union Address – My Hope
I know that there are many people who hope that Barack Obama will say X, Y or Z. I hope that Barack Obama continues what he stated in his inauguration address. These are the priorities that I hope he stays near in the State of the Union address.
Education – If we are truly going to compete against South Korea, Singapore, China and Europe, we're going to have to do a better job of educating not just some of our kids, but all of our kids. Training some of our youngsters to be auto mechanics and plumbers, that's fine. But we also have to train a new generation of computer scientists, nuclear engineers, astronomers and the like. We simply have to do better. In my opinion we simply need to put more resources into schools. Every child has to be able to work a computer by the time he/she graduates fourth grade. We simply can't wait. Bill Gates started Microsoft when he was 19 or 20. He didn't start using computers when he was in college. By the time he was in college, he was already miles ahead of his college professors. In order to get the next generation of Bill Gateses, we need to liberate our teachers from a lot of the standardized tests.
Strengthen the Economy – Four years ago, we were facing the worst recession that America has gone through since the Great Depression. The economy has added approximately 150,000 jobs per month for more than a year, but we need more. We still have a jobs deficit of over five million. We need to put America back to work. We cannot wait for big business. Big business is sitting on trillions of dollars. The only entity big enough to make the difference we need, if big business is going to twiddle their thumbs, is the US government. We need to invest heavily in infrastructure. We need to rebuild our roads, our schools and our bridges. Plus, we really need to infuse green industry. I propose a $100 billion investment in green energy this year, and in every year of the Obama presidency. That will put us in the driver seat with green energy. That will put hundreds of thousands of Americans to work. I like the idea of high-speed rail. I don't like this particular map where it crisscrosses the whole country. Instead, I think it would be most effective along our most congested corridors – Boston to Washington DC, Dallas to Houston (including Austin and San Antonio), Tallahassee to Miami and possibly Chicago to St. Louis and Kansas City.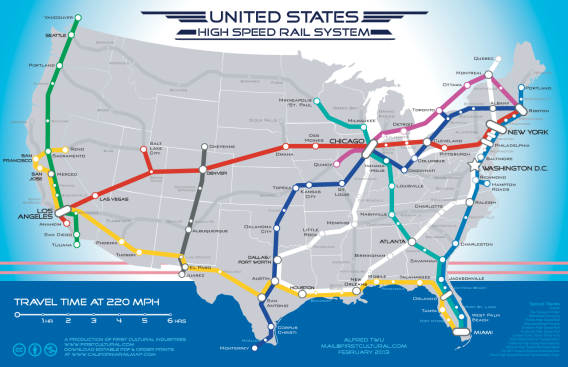 Immigration – It is time for us to get serious about immigration. So far, we've been listening to a lot of people who aren't serious. The idea of "self deportation" is laughable. We need a serious path to citizenship. We also need serious penalties for employers who knowingly hire economic refugees (illegal aliens).
We need to reauthorize The Violence against Women Act.
We need to work towards Medicare for all.